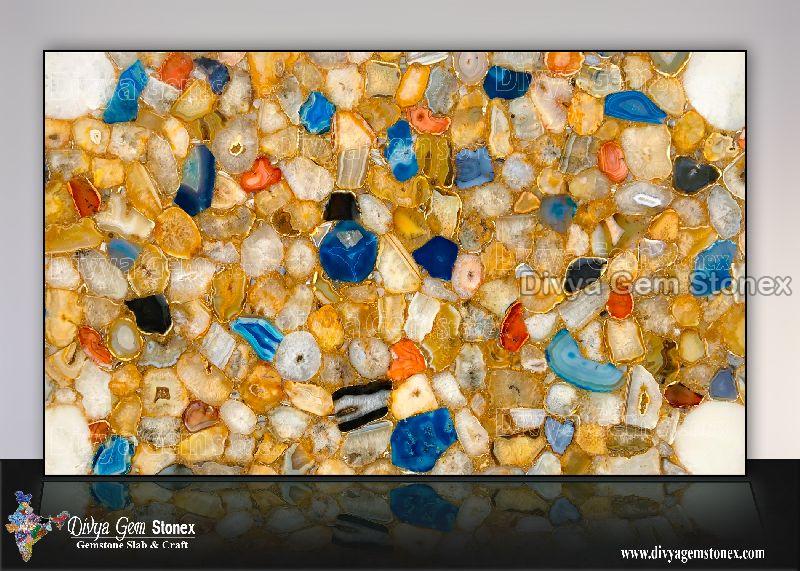 Agate is a mineral of the quartz family and is known for its splendid designs and colors. They have different types of designs like stripes, eye-like design, specks of colors, splashes, fossilized inclusion, etc. Owing to these designs in them, agate minerals are also called earth rainbow. One can find this in almost all colors seen in the rainbow. While many people use agate for feng shui and various other means of soothing the nerves, one of the popular use f agate stones is in making agate stone slabs.

One can easily find agate stone slabs being used in wall tiles, flooring, countertops, hardscaping, etc. You can approach any agate slabs exporter to get some of the most exquisite and vibrant colors in the agate slabs. In fact, there are many agate slabs manufacturers in Rajasthan that use these vibrant color agate stones to make these slabs. You can also find these at the store with agate slabs supplier. If you are planning to buy the best agate slabs, here are some of the

Multi Agate Slab: This contains different types of agate stones with various colors. This gives these slabs a very unique multi-color finish. These multi-color slabs look very beautiful and different colors are scattered on them and make it look very beautiful.

Navrang Agate Slab: Known for superior quality and resilient structure, the navrang agate slabs are also another beautiful slabs that you can find in the market. As the name suggests, these slabs have nine color agate stones and look beautiful in all types of applications.

Red Crystal Agate Slab: When you are a lover of red color, the best thing to install as you flooring or countertops is the red agate slab. You can get it from any red agate slabs manufacturer in Rajasthan and install it in your home. They can also be found in red crystal agate form for a brighter and shinier look.

Aqua Blue Agate Slab: Aqua blue is the color that refreshes the mind and soothes the soul. If you are looking for something more contemporary and modern, agate slabs in aqua blue color should be your go-to option. These slabs look great when used in a home with white paints.

Black Crystal Agate Slab: Isn't black one of the most beautiful colors in the world? Yes, it is for many. And when you get agate slabs in black color with crystal stones, the beauty of the slabs, as well as the color, accentuates. The eye-like design on these slabs makes them look even more beautiful and stand out.

Blue Lace Agate Slab: The soft and soothing elegance of blue lace agate crystals looks even better when it is made into agate slabs. The circular design on the slabs has a very positive effect on the mind and can calm the nerves very quickly. Your emotions and attitude can see a close change when you start using blue lace crystal agate slabs for various purposes.

Apart from these, you can find all types of colors and designs in agate slabs like purple, golden, fire, grey, lemon, moss, etc.
This entry was posted on October, 11, 2019 at 12 : 52 pm and is filed under Agate Slabs. You can follow any responses to this entry through the RSS 2.0 feed. You can leave a response from your own site.